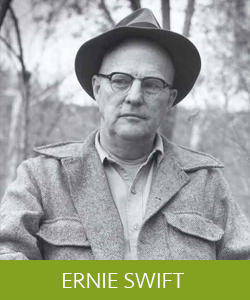 "First teach the child the value of work, not regimented play...
teach him that a sunset over a verdant countryside has more
intrinsic value than the most costly painting...teach him that
bread comes from the soil and not from the store"
Ernie Swift
Ernie Swift was raised on the windswept prairies of south-western Minnesota. His years on the family farm honed a vivid imagination, and he credited those years with helping him to develop a deep understanding of the importance of conservation. Nature was Ernie Swift's teacher, he never received a forma college education, yet he rose through and had substantial influence on the conservation movement in the early days. Being one of the first wardens for the State of Wisconsin these days were filled with adventure. . His northwoods arrests included "Machine Gun Frank: McErlane, a couple of the Al Capone gang. In those early days Ernie was threatened more than once at gun point and even had mobsters show up at his home.

Swift developed a reputation as a fearless game warden in Wisconsin's northwoods during the 1920s and 1930s. He was seen as a individualist, and was not afraid to walk alone through cold, dark woods, fields and marshes to uphold the law. Not surprisingly, Swift was not one to stand still,he was unafraid to walk ahead of the crowd as his career and the movement in conservation evolved.


In the 1930s, Aldo Leopold was beginning to build a name for himself as an environmentalist. Swift and he forged a lasting professional and personal relationship. At that time, Swift had left his warden responsibilities and become deputy director of the Wisconsin Conservation Department. In the early 1940s their was a deer management debate within the state. Swift and Leopold agreed that, that scientific research should guide management of the herd and the ecosystem. This did put Swift at odds with old colleagues, but he did what he felt was right not what his friends wanted. It was his work on management of the deer herd that is credited with helping set Wisconsin as a leader of wildlife management.
In 1947, Swift was appointed director of the Conservation Department, what today is known as the Department of Natural Resources, . He was tenacious trying to preserve and protect Wisconsin's natural resources, In those days, America was young and seen as endless, giving little support for the notion of resource management.

Wisconsin was just the place for Ernie to hone his skills. It was in 1954 that his career leapfrogged to the national level. He was appointed assistant director of the US Fish and
Wildlife Service in Washington, DC. A year later, he moved out of public service. Ernie had always been one to tell it like it is and that just does not mix well with Washington. When he was offered the the appointment as director of the National Wildlife Federation. he jumped at the chance. For nearly five years, he helped lay the groundwork for the growth of the country's largest conservation organization. His work also helped shape the first U.S. Wilderness Act, which created the National Wilderness Preservation System.

What made Swift special was his conviction and his ability to communicate with people. It was this knowledge that gave him courage and motivation to become a speaker and writer in favor of the conservation movement. Swift had influenced many through his essays, articles, editorials, and reports. He wrote regularly for National Wildlife magazine and Conservation News, two of the Federation's periodicals. "The Glory Trail: The Great American Migration and Its Impact on Natural Resources" was written in the late 1950's and historically looked at resource management in the U.S. In 1967, A Conservation Saga was published an autobiography, only a year before his death.

During his lifetime Ernie Swift received more than 20 awards and citations, he won the Haskell Noyes Conservation Warden Award in 1930, was honored with the Aldo Leopold Medal in 1959, and a Gold Medallion (the first ever given in the conservation field) from the Wisconsin Exposition Department in 1966. Many of his awards are hanging at Swift Nature Camp in Minong Wisconsin
In 1966 The Department of Natural Resources dedicated the YCC camp to Ernie Swift as a Conservation Summer Camp and in 1996 was renamed Swift Nature Camp To learn more about Mr. E.F. Swift, see the Dinning Hall at Camp.