First Timer Camp
A
t Swift Nature Camp we specialize in a childs 1st time at camp. Our excluisve Discovery Camp is a nurturing, child focused program only for New Campers. Our goal is to give additional attention to each child so your child will know their time away from home was a success, increasing their self confidence and making them feel good about their accomplishments. We are so confident in our ability to achieve this, we provide you Guaranteed Success. Be sure to watch a
Parent's Testimonial
about Discovery Camp.
DISCOVERY CAMP HIGHLIGHTS

Boys & Girls, Ages 6-12-no teens
Small Size-maximum 50 children
Non competitive-All inclusive
Science, Nature, Animals
Water & Land Activities
Non-denominational
Only New Campers
A FUN Guarantee
12 Day Length
June 17-29, 2018

Our Guarantee your child
will enjoy their time at SNC
If you are looking for the perfect 1st time camp experience Discovery Camp is designed for you. It is designed for those children that might need a bit more attention their first time away or just want a shorter time. Yet, often campers perfer to jump right in and start their camp experience with our 3 & 6 week programs, and that's OK. Regardless of session you pick, all activities are the same, except Discovery campers will remain at camp for their time and will not go on any overnight trips out of camp. The choice is up to each family.
Please read the additional information. It is important that parents feel comfortable with their decision so give us a call (630-654-8036) we love to talk camp.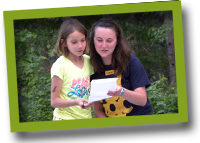 The Special Things We Do

Dear Parents,
First, we realize the importance that campers feel special while at camp. Our highly trained staff accomplishes this by acknowledging the fact this quite possibly is your child's first extended time away from home. We know one of the best ways to do this is to have additional staff always on hand for each and every camper. We are extremely proud of the fact that during Discovery Camp we limit each cabin size to only 6-8 campers with 2-3staff members. That's only 50 campers (ages 6-12) and 25 staff members ! The first day of camp is Orientation Day when campers not only get a tour of the camp, complete with a visit to the Health Center and the Mail Box, but also go to each activity area learning about safety in that activity. Within the cabin our staff works hard to promote a nurturing and harmonious friendship. This starts with a Respect List for all to agree to and sign and each night ends with a bedtime story. Due to the fact that all campers are new to this camp, they are all on equal ground right from the start. Prior to the campers arrival, the staff studies each camper informational packet. They learn about each child and are aware of any specific needs. If your camper has medical needs staff discuss these in confidence with our Camp Nurse. By the time your child arrives at camp, the staff feels as if they already know your camper. This is beneficial to the campers from the moment they step off the bus and are greeted.
Second, we realize the importance of a well rounded non-competitive program with many activity choices, giving each camper the opportunity to explore what they enjoy and quite possibly may excel at. Each morning a cabin is invited to two instructional activity areas. These include Swimming, Canoeing, Nature Center, Arts and Crafts, Archery, and more! We encourage all campers to try new and different activities. In the afternoon campers make their own choices from the Activity Board deciding what they wish to focus on. Making their own decisions and following through with them is what we are emphasizing.
Third, Swift Nature Camp encourages each child to learn independence in a safe, age appropriate environment. Our Twelve Day Discovery Camp is the perfect length for first time campers to gain autonomy, leave their homesickness behind, and feel comfortable with their new found independence. For many campers the greatest lesson camp teaches is that they can leave home, return days later and very few things will have changed, especially your love for them.
Finally, we know you want to feel comfortable that your child is in a safe, nurturing and secure environment. We encourage parents to visit us at any time after the first five days. Of course, a list of references is available to you. Please feel free to speak with other parents who have had their children attend Swift Nature Camp. Be sure to watch the Parent Testimonials to get a better understanding what SNC is all about. As Camp Directors we are always available, so feel fee to call.
Lonnie & Jeff Lorenz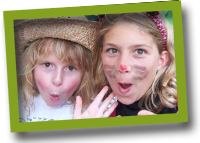 Before, duringing and After - Creating Success
We want your child to feel a sense of belonging to something bigger, a family. With over 95% of our campers wishing to return next summer, we feel we are pretty good at helping children enjoy their camp time. Here are a few things we do:
Prior to Camp:
An online Parent's Handbook contains everything you'll need to get ready for camp. This includes: how to prepare your child for that first time alone, a packing list and even hints how to say goodbye. Our Parent's Handbook covers everything!
Once you enroll, you are invited to meet new friends on our social networking websites. This provides a wonderful opportunity to meet staff and campers alike.
At the end of May we have an Open House in Chicago area, this provides newcomers with a wonderful chance to meet other campers and staff.
We ask parents and campers to tell us in detail about themselves, from songs you like to things you are scared of. Plus we ask for a photo, that way we know who you are before you ever arrive at camp.
Parents of newcomers know that Jeff & Lonnie are always available to answer questions and offer friendly advice for their child. If you have a question, give us a call...that's why we are here.
During Camp:
As soon as your child arrives in camp he/she is introduced to their cabin counselor as well as Jeff & Lonnie, the Directors. This way your child knows who to come and see should they have an issue.
Our camp ONLY has new campers...so everyone is in the same position right from the start.
The first day of camp is an orientation day complete with camp tour. Campers learn about different activities and safety in these areas as well as camp expectations and even where the mail box is.
The first night the 5-7 campers and 2 counselors from each cabin set up their cabin respect list. Ensuring that everyone has a say in what they feel is important in their new family.
Many of our staff are returning to Swift Nature Camp, most are teaching majors at university...so they see camp as a way to learn about children.
We realize that one of the easiest ways to minimize homesickness in a child is to keep them busy. We do this from early morning to late at night. We even have staff on hand to give those children who are having a more difficult time their own private counselor. We know of no other summer camp that is as dedicated to the first time camper as we are.
After Camp:
We ask you and your child to rate our program and how it has benefited your child.
We want to be your child's Family in the Northwoods so SNC friendships are what it's all about. We strive to keep these friendships alive .
Every few months your child will get a newsletter as to what's happening at camp. Campers love getting the "Camp Corner" newsletter.
We will send your child holiday cards and birthday cards.
We encourage children to stay in touch with our Facebook page.
We have a yearly reunion where campers can come and see old friends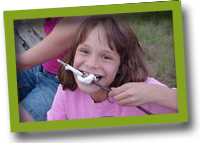 A Parents Recommendation

A Parent's Letter
My son, currently 12, has attended Swift Nature Camp for two years and we are going to send him back for as long as we can. He loves it. He has ADHD and is very smart, but has trouble at school with attention-seeking ploys. The counselors and directors at SNC have a great, hands-on approach to leadership, social skills development and confidence-building.

Jeff and Lonnie, along with enthusiastic counselors, provide an excellent atmosphere that encourages positive traits to rise to the surface. My son has developed greater peer understanding and empathy, greater self-confidence and trust, better leadership skills, an understanding of group dynamics and fair process and many other valuable lifelong skills.

At first I felt nervous sending him to a place I had never seen, but it was really worth it! I talked to Jeff and Lonnie over the phone before I signed him up for the Discovery Camp for first time campers. Their willingness to discuss any question I had and their understanding of my fears made the decision easy. My son took the bus there, but I picked him up at the end, so I got to see first-hand all of the wonderful places he got to explore. He was so excited about camp that I'm not sure he drew breath on the 8-hour journey home!

The SNC website tells you everything you need to know and I love how the camp is set up. The cabins are by gender and age and do activities together, including laundry and in the afternoons the campers can pick from a variety of typical camp activities (arts & crafts, archery, swimming, etc.). On top of this, the camp is dedicated to environmental awareness and nature preservation. They have a nature center with microscopes and frogs and tadpoles and lots of hands on activities. There is also a small petting zoo of well-adored animals.

Of course there is plenty of laughter, games, campfires, food, sports, fun, drama, singing, etc. that makes overnight (residential) camp an experience one remembers for their entire life.

As a parent, I appreciate that this isn't a "sports camp" or "math camp" or something ultra specific. Kids at SNC get to be kids and by experiencing all sorts of different activities and a diverse set of campers and counselors, learn more about themselves than at a specialized camp.

My son has learned so much from this camp in only the two years he has been attending. We have noticed a HUGE difference in his attitude, manners and abilities. He is more mature, pleasant and competent. We would pay any price for the experiences and social education he has gained from SNC.

We used to joke that you can find math, reading, or science tutors but no tutors in social skills. Well we were wrong! This is exactly what my son needed at exactly the right time in his life.

If you are thinking about away-camp for your child, please consider SNC. Primarily I think of it as a non-competitive, confidence-building camp where kids get to be kids. I know it is the best thing we have ever done for our son.

Thanks Jeff, Lonnie and all the fabulous counselors, cooks, nurses, etc. We hope our son will join your camp as a counselor when he is older (it is a new goal of his)!

Brittany Flokstra
Waterloo, Iowa

Youngest Boys Find A Suprise!
Our Youngest Boys Learn About Nature