Welcome Parents
As heard on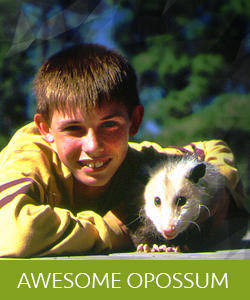 Which campers will find Success at SNC?
At the end of each year over 90% of our campers wish to return, so the answer is easy: nearly all children will enjoy SNC. Our campers tend to be bright, curious, and creative children who enjoy the company of adults and kids alike. They are good kids who are filled with kindness. They are happy with their new found indepndance and wake up every day ready to enjoy being outdoors in nature and looking forward to the adventures in store. Read More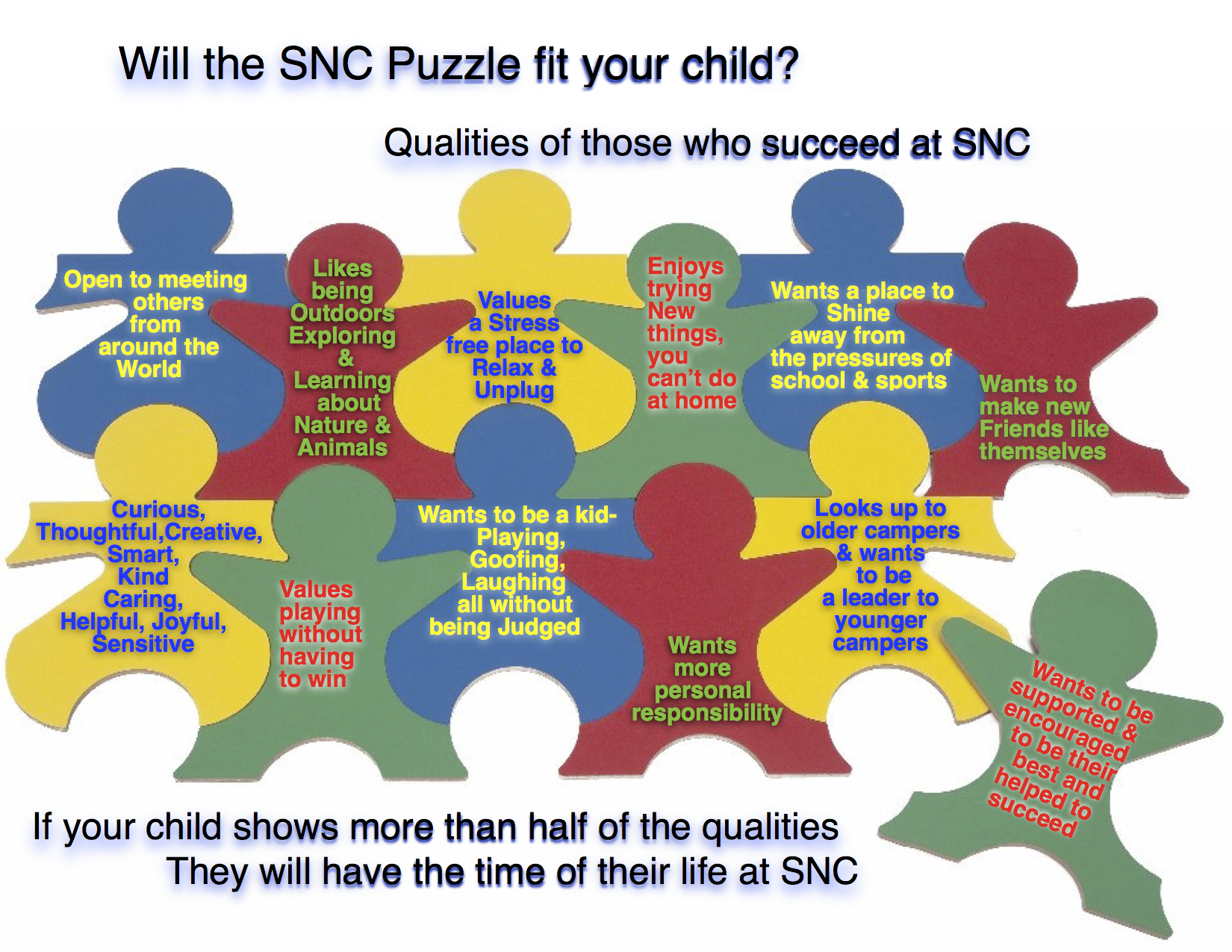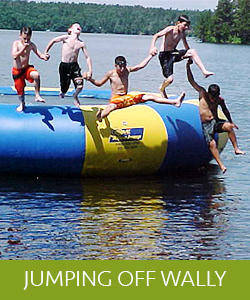 Swift Nature Camp -Who We Are
Our focus is to blend outdoor summer camp activities with environmental learning, increasing each campers appreciation for nature, science and the environment. Our child centered program away from technology, celebrity culture and academic pressures encourage smart, creative children to reconnect with nature while learning more about themselves.
Our exclusive 1st Timer Camp is only for children who have never been to a sleepaway camp before. We promise your child will succeed and love SNC.
Read More
SNC is located in beautiful northwestern Wisconsin. Our 80 acres of lush pine, oak, and birch is a perfect place for those who love to be outside. Bordering camp is
another 1,500 acres of county forest, perfect for exploring. We have a sandy beach and nearly 1/2 mile of open lake front on the Minong Flowage. This 1500 acre lake provides the perfect setting for water skiing, canoeing, fishing and sailing.
Surrounded by nature, our intentional child centered community is where a child's ideas, creativity, and discovery are celebrated. Through fun activities and positive staff role models, we help children develop the lifelong skills of confidence, teamwork, leadership, compassion and communication. The guided challenges at camp help increase every child's personal resilience.
Our small size allows us to give our attention to each child's unique personal development by providing fun, friendship and opportunities for leadership in a supportive and noncompetitive environment. While children are home all year long, you are busy guiding your child?'s behavior and social choices. Summer camp offers your child a safe opportunity to act on their own, be self-reliant and the perfect opportunity to try things for themselves.
Becoming independent is a major part of growing up. Children at camp find adult friends called counselors, who model positive life skills like perseverance, listening, teamwork and appreciation of differences - skills that set new standards for their own behavior.
We believe that Swift Nature Camp provides a nurturing child centered environment that enhances a child's sense self-worth and appreciation for nature. We do this by valuing each child at camp while providing them opportunities to explore the many facets of their personalities. By both encouraging and challenging campers to take risks that are new to them we expand their boundaries and increase their independence and grit. By the end of camp SNC campers leave feeling greater confidence, self-reliance and resilience as they return home to face the pressures of their fast-paced media centered world. All this with an increased understanding and respect for nature and a realization that they can have profound effect on it.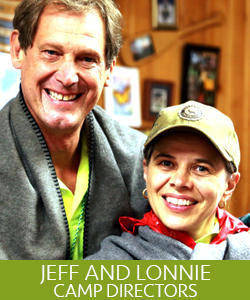 Meet Lonnie & Jeff - The Owners & Directors
We love Swift Nature Camp. For us, camp is a way of life. It always brings us joy to see our campers grow and develop each summer at camp. It's like having one huge extended family spread throughout the world that reunites each summer in the north woods of Wisconsin. Read More
Over our 20 years of experience at SNC, we have enjoyed helping thousands of children make memories of a lifetime with their new friends. We create a culture at SNC that focuses on a healthy balance of creative fun with appreciation for others and our environment all in a safe, supportive, and aesthetically beautiful environment.
At SNC we strive to instill timeless core values in a natural environment away from technology, celebrity culture and academic pressures. Our activities are taught to reinforce life skills. For instance, during archery instructions for how to aim at a target, we highlight that you need patience to do your best. Our goal is to encourage our campers to try their best - they don't have to BE the best. It is our belief that encouraging children to try new things and support each other with challenges sets the pattern for healthy relationships. Learn more from this article What SNC Stands For its kinda like our elevator speech
Jeff spent eight summers at Camp Minocqua and completed the American Camping Association Director course in 1994. He is currently an American Red Cross Certified Lifeguard Instructor, Water Safety Instructor and First Aid and CPR Instructor. He served as Vice President of the Midwest Association of Independent Camps. He also sat on the local board of the American Camping Association. Jeff loves the outdoors and enjoys sharing his enthusiasm for camp life with everyone.
Lonnie, back in her homeland of Poland was a grade school teacher for ten years. Her specialty was teaching English as a foreign language. In addition to teaching, she was involved with the Girl Scouts in her local village. Lonnie has become a United States citizen. She's known for her unlimited patience, innovative program ideas, and a true love of children. She plays the guitar and sings...always a big hit at camp.
We are parents ourselves. We understand what it's like to keep finding ways to help a child grow emotionally, spiritually and physically through the years. Because of our own experience, we consider our role as directors to be a partnership with our campers' families. We get to know each child and his or her family. We want to work together with you. Camp is more than just entertainment. We want to help each of our campers build strength, independence, and kindness....qualities that last a lifetime.
At Swift Nature Camp we do teach principles of environmental consciousness but just as important to us are the social opportunities that empower every child to strengthen character and forge friendships. We believe what we say to every camper: "Strive to be your best self while you enjoy and learn from the nature all around you!"
We are confident that your child will enjoy their time at our camp. We even offer a Camp Guarantee. Give us a call and let's talk about camp today.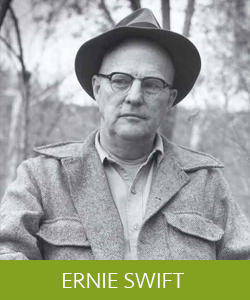 History Of Swift Nature Camp
At Swift Nature Camp, we are carrying on the tradition of pioneer environmentalist Ernie Swift (1897- 1968). As one of the first Conservation Department Wardens of Wisconsin, Ernie strove to preserve and teach environmental awareness. Ernie eventually rose to serve as the department's Director and later he was appointed by President Eisenhower as the Assistant Director of the U.S. Fish and Wildlife Service. When asked, Ernie would say his best work was as the Executive Director of the National Wildlife Federation. Read More
In 1964, the Wisconsin Department of Natural Resources, as part of the Youth Conservation Corp, officially dedicated the Ernie Swift Youth Camp in Minong, Wisconsin, and continues to own and manage the property. Today, with over 20 years of hands-on experience as Camp Directors, Owners Jeff & Lonnie Lorenz say "We have enjoyed helping thousands of children create memories of a lifetime with their new camp family here at Swift Nature Camp." Our emphasis is to continue the work of Ernie Swift by making environmental learning fun and exciting for every camper. At SNC we blend recreational activities including: Canoe &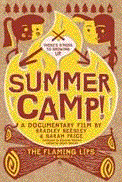 Backpack Trips, Horseback Riding, Swimming, Arts & Crafts, Team Course, Archery, Sailing, Skiing, Tubing and Sports. Our Nature program incorporates a Nature Center, Pet Zoo and DNR sponsored programs. Our goal is to have every child leave camp with an enhanced feeling to preserve and protect nature. In more recent times Swift Nature Camp was the site of a full length movie. The filming took nearly a month at camp with over 200 hours of recording. Then it was over a year of editing before it was in the theater. How exciting to go to a movie theater with your friends and see yourself at camp. Today, the movie has limited distribution and can be found at times on the internet. Click the poster to learn more.