Camp Counselors
When you come to camp, you will have at least two counselors with you in your cabin. You will spend a lot of time with them. Thankfully, our campers come to realize that this is an awesome thing! When it comes to counselors at SNC, they are filled with countless qualities that will help you grow while having a great time!

Counselors at SNC are Special Because They Are:

Good Listeners
Got a problem? Got a joke? If you've got anything to say at all, they'll listen. They will not count out your worries or joys just because you're younger. They want to get to know you and make you happy!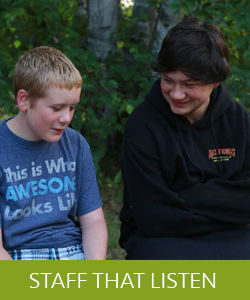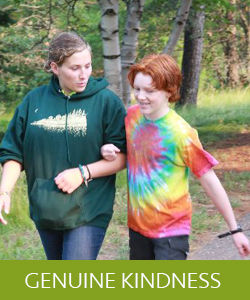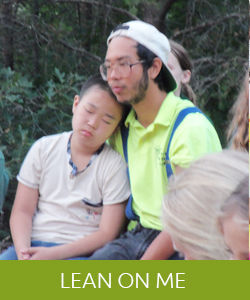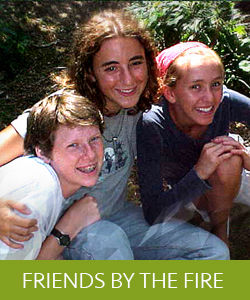 Down to Play

At SNC, our counselors come to camp because they love to play. Rather than just leading activities, they want to get in on the fun with you! From playing games to learning or trying new things, they want to have fun with you and your cabin mates.


Helpful
Counselors here are helpful in many ways. They will help you out if you have any problems: homesickness, stomachaches, not sure how to address that letter home, to name a few. They will also help you accomplish your goals at camp!
Kind
You will be hard-pressed to find a kinder group of individuals. Their level of caring is in competition with that of a bigger brother or sister! They want to see you happy and having fun, and they will do whatever they can to make camp a positive experience for you!

Funny
Dressing up in silly costumes, singing crazy songs, and just being around for a good knock-knock joke. These guys and gals like to make people smile. Laughing will come easy this summer when you hang with your counselors.

Teachers
Never annoyed to teach you something, SNC counselors enjoy helping you learn and want to help you master that new skill. Many counselors are actually studying to become teachers or are teachers during their non-summer months.
Testimonials
3 weeks was not enough, next year I want to stay for 6 weeks.

3 weeks was not enough, next year I want to stay for 6 weeks.

Samantha


I really liked the Animals in the Nature Center.

I really liked the Animals in the Nature Center.

Forrest


I like the new friends I made, we still chat on Facebook.

I like the new friends I made, we still chat on Facebook.

Kat


In the cabin our counselors made it feel like a respectful loving family.

In the cabin our counselors made it feel like a respectful loving family.

Kim


I cried for days after leaving my SNC family of friends.

I cried for days after leaving my SNC family of friends.

Charlotte


I liked swimming every day in the lake.

I liked swimming every day in the lake.

Lauren


When I returned home I loved telling my parents about my SNC adventures.

When I returned home I loved telling my parents about my SNC adventures.

Zach


The New Lego building is a wonderful place to be creative and make friends.

The New Lego building is a wonderful place to be creative and make friends.

Reese


I like being out in Nature and away from the city sounds and lights.

I like being out in Nature and away from the city sounds and lights.

Stephen


The Canoe trips are the best, I always feel like an explorer.

The Canoe trips are the best, I always feel like an explorer.

Matt


Being independant and making my own decisions was great.

Being indépendant and making my own decisions was great.

Susan


I liked that it was non-competitive and everyone was kind.

I liked that it was non-competitive and everyone was kind.

Chris


I was surprised how most of the kids were like me, kind, fun and liked being outside.

I was surprised how most of the kids were like me, kind, fun and liked being outside.

Billy


I thought I would miss my electronics, but it was no problem.

I thought I would miss my electronics, but it was no problem.

Sandy


I was excited to get my Archery Achievement Award, it took dedication.

I was excited to get my Archery Achievement Award, it took dedication.

Charlie


I want to go back to SNC.

I want to go back to SNC.

Wyatt


I like learning about Nature and hearing the Loons at night.

I like learning about Nature and hearing the Loons at night.

Nate


I gained so much independence being at camp for 2 weeks.

I gained so much independence being at camp for 2 weeks.

Jenny


This is my 5th summer, I love it.

This is my 5th summer, I love it.

Tyler


I liked that all the activities were in a non-competitive atmosphere.

I liked that all the activities were in a non-competitive atmosphere.

Mike


Their is something Magical about SNC, Friends, Activities, Nature, It's all Great.

Their is something Magical about SNC, Friends, Activities, Nature, It's all Great.

Derrick


I like making beaded animals and friendship bracelets in Arts & Crafts.

I like making beaded animals and friendship bracelets in Arts & Crafts.

Kia


Riding horses on a trail in the woods was Awesome.

Riding horses on a trail in the woods was Awesome.

Amber


The 1st timer camp was good cause we were all the same.

The 1st timer camp was good cause we were all the same.

Justin


When we went hiking it was hard but the sites from the hill were breathtaking.

When we went hiking it was hard but the sites from the hill were breathtaking.

Zach


My friend had been here and he was right... it's a blast.

My friend had been here and he was right... it's a blast.

Sean


I'm kinda sad, this is my last summer, wish I had started younger.

I'm kinda sad, this is my last summer, wish I had started younger.

Matt


Meeting new people from around the world is amazing.

Meeting new people from around the world is amazing.

Katie


I liked that my counselors were friendly and encouraged me to try new things.

I liked that my counselors were friendly and encouraged me to try new things.

Lucy


SNC is about NO cliques.

SNC is about NO cliques.

Tay


I liked daily picking the activities I wanted to do.

I liked daily picking the activities I wanted to do.

Lucy


It's the Funnest camp in the world, I got along with everyone.

It's the Funnest camp in the world, I got along with everyone.

Taylor


SNC is my home away from home.

SNC is my home away from home.

Brandon


I really enjoy meeting new kids from all over and counselors every year.

I really enjoy meeting new kids from all over and counselors every year.

Catherine


So many activities to choose from, we are never bored.

So many activities to choose from, we are never bored.

Cameron


Every year is a new adventure in camping, community and nature.

Every year is a new adventure in camping, community and nature.

Maddy


I enjoyed seeing what America was like.

I enjoyed seeing what America was like.

Kevin


Kindness and understanding is what camp is all about.

Kindness and understanding is what camp is all about.

Grace


I loved it all... Don't' change a thing.

I loved it all... Don't' change a thing.

Marchin


I like that we got to shoot sling shots.

I like that we got to shoot sling shots.

Ken


Camp is so much better than staying home all summer.

Camp is so much better than staying home all summer.

Erick


It took a few years but my swimming really improved.

It took a few years but my swimming really improved.

Pat


I feel completely included and accepted.

I feel completely included and accepted.

David


It is amazing having your Birthday at camp.

It is amazing having your Birthday at camp.

Marty


The small size makes SNC excellent.

The small size makes SNC excellent.

Taylor


I liked learning about nature and ecology.

I liked learning about nature and ecology.

Zach


SNC is a down to earth experience without junk food or electronics.

SNC is a down to earth experience without junk food or electronics.

Lucas


I liked the shorter first timer camp & my councilors were fun and caring.

I liked the shorter first timer camp & my councilors were fun and caring.

Sandy


Living on a lake with all the water activities is wonderful.

Living on a lake with all the water activities is wonderful.

Siena


SNC is down to earth and not a rich kids camp.

SNC is down to earth and not a rich kids camp.

Jason


I liked SNC because it was not a sports camp.

I liked SNC because it was not a sports camp.

Christy


Free time is the best.

Free time is the best.

Tyler


I like being away from home and out in the woods.

I like being away from home and out in the woods.

Josh


Camp friends are the best friends.

Camp friends are the best friends.

Zoe


SNC is about trying new things, meeting new people and being on my own.

SNC is about trying new things, meeting new people and being on my own.

Amanda


Counselors were great.

Counselors were great.

Caitlin


I really like the Arts & Crafts Castle.

I really like the Arts & Crafts Castle.

Patryk


This was my best summer ever.

This was my best summer ever.

Ryan


I gained confidence trying new activities and meeting new folks.

I gained confidence trying new activities and meeting new folks.

Caroline


This is my 5th summer, I love it.

This is my 5th summer, I love it.

Erick


I feel accepted and loved at SNC.

I feel accepted and loved at SNC.

Tyler


Tubing was the most Fun.

Tubing was the most Fun.

Tyler


I feel like I belong to something bigger than me, a community.

I feel like I belong to something bigger than me, a community.

Shawn


Friends is what brings me back to SNC.

Friends is what brings me back to SNC.

Jason


I really look forward to Pizza Night.

I really look forward to Pizza Night.

Sylvia


Swift is a good fit for me, I love nature and being outside.

Swift is a good fit for me, I love nature and being outside.

Angela


I got to shoot a real gun.

I got to shoot a real gun.

Conley


My counselors were very encouraging when i was unsure of new activities.

My counselors were very encouraging when i was unsure of new activities.

Nick


Making new friends is easy at Swift.

Making new friends is easy at Swift.

Pat


Counselors made sure I felt included in the cabin.

Counselors made sure I felt included in the cabin.

Julie


I liked coming to SNC with my sister.

I liked coming to SNC with my sister.

Kate


Sleep in Sundays are one of my favorite days at camp.

Sleep in Sundays are one of my favorite days at camp.

Kristina


I got to bring my pet from home to SNC.

I got to bring my pet from home to SNC.

Ryan