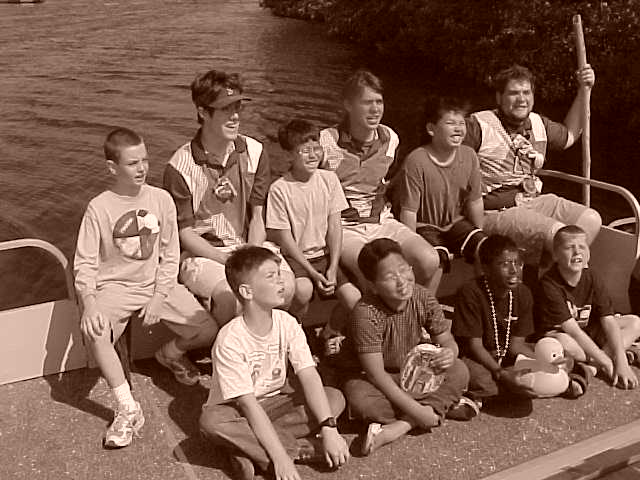 We want the best for our children. Yet, for myself, as a parent of a 14 year old son, I often look back and think of a simpler, less connected time. A time when the Andy Griffith show roll modeled how life should be. I want my son to know what these times were like and connect with them. But, as I nostagically look back to these simpler days am I limiting the skills he will need for the 21st Century? To make this even more complicated our son is Homeschooled. So where can I turn to give my child an advantage in years and decades to come?
Most parents tend to rely on our own pareting skills and schools to raise our children. Summer Camp is as often missed oppertunity. Children tend to learn when they are away from us and away from school. This is when they are actually most able and willing to learn. This is where the summer camp experience comes into play and the American Camp Association realizes the impact it has on todays youth is more than playing outside.


The American Camp Association is jumping with both feet into measuring camp's impact on kids.
In the process, the national organization representing 2800 summer and after-school camps has found a new marketing tool: 21st century skills.
"There's a common perception that the American Camp Association is about canoes in a lake and tents," said Tom Holland, chief executive of the camp association.
"But where we have transitioned in the last ten years is being about youth development, specifically the out-of-school-time space." He spoke at the group's annual conference in February in Atlanta, where various workshop leaders spoke excitedly about the new direction of camp.
Summer camps still have traditional activities such as archery and swimming, Holland said. They may be located in beautiful wilderness areas,"
"It's not about that location. It's about the growth and development of a child," he said, "the outcomes that they have through our programs."
For years, camp has fostered leadership, grit, tenacity and resilience in kids in the course of fun activities, he said, referring to qualities that researchers are pointing to as valuable.
"That's the core of who we've always been," he said.
But camps need to demonstrate their impact.
"Let's track those outcomes," he said.
About 20 percent of camp association member track outcomes. "It's a number we hope to grow," Holland said.
The association is urging its members, which include nonprofit and for-profit camp operators, to begin using the new Youth Outcomes Battery. It's a survey kids take to measure whether camp has increased their independence, friendship, confidence, interest in exploration, perceived competence, problem-solving ability, responsibility, spiritual well-being, family citizenship, teamwork affinity with nature and sense of connectedness.
• Camps pick the qualities they wish to measure, some of which line up with the "21st century skills," a buzzword for abilities thought to be needed in a changing economy, particularly critical thinking, communication, creativity and collaboration.
• Camps may still have traditional activities such as swimming and archery and they may be located in beautiful wilderness areas, but the new focus is youth development, according to the American Camp Association.
• Camps may still have traditional activities such as swimming and archery and they may be located in beautiful wilderness areas, but the new focus is youth development, according to the American Camp Association.
Efforts to push these skills in school and out of school are hailed by organizations such as the Partnership for 21st Century Learning, a business- and educator led group.
Critics, however, say the skills are presented in such a generalized way as to be meaningless and they are not new.
What's to prove?
But in a world of data and evidence, the camp association wants to show its impact. The survey data is helpful for camp leaders to see what's working well in their programs and what could be improved, Holland said.
The camp association is positioning itself as a partner in education in order to convince today's parents of camp's value.
"More and more parents are asking the question: 'What is my child going to get out of this?'" Holland said.
"This is giving our camps the tools," he said.
It's about intentionality, he said. "Are you intentional about what outcomes the children will walk away with?" And then are you translating and sharing that information with parents?"
Scott Brody is a former national vice president of the American Camp Association and owner of Camps Kenwood and Evergreen in Wilmot, N.H.
He recently expanded his camp business into China, where affluent parents are looking to give their children an edge in a competitive economy.
He envisions a partnership between camps and schools to strengthen 21st century skills in kids.
Every activity in camp could be matched with one of the learning outcomes, he said.
Last year, Brody was quoted in an article in the Yale Globalist about the expansion of American-style camps in China.
"When you look at the entrepreneurial and innovation skill set, a lot of what you need are the qualities that people get to practice at camp—creativity, communication, collaboration, and building your own sense of resilience," Brody said. "All of these themes are interwoven with the American dream. And the opportunity to practice these skills is the critical novelty of the camp environment."
At the camp association conference Brody spoke about the value of the Youth Outcome Battery.
"We're talking about outcomes and measures that are valued in the business world and in schools," he said.
"It's a huge marketing advantage," Brody said. Parents are looking for experiences that give the child an advantage, that add value."
"We are in the college and career readiness business," he said. "We are in the education business."
reprinted from Youth Today
By Stell Simonton | February 23, 2016