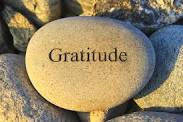 Gratitude often naturally happens and develops at camp. For many children camp provides a place to move from ME to WE. This is a normal part of child development. Yet, it is camp that nurtures and pushes children further along this path. Some of this is because we live with others from different places and cultures. Sometimes friction is the result and this friction requires us to refocus on the good stuff. It can be the staff that grab a cabin and take them to the lake front to watch a setting sun and the brilliant colors. Or it maybe our daily Gratitude Journal, where we ask campers to write the good of the day, helping them focus on the good times and thier personal success.

Back at home families can continue to help their children be grateful. Here are a few helpful hints:
1- Stay Positive. Ones attitude directs what we will see. Help your child see the good, the positive. At camp we often ask a camper to say 3 good things about a person or situation that might be causing strife at the time. Keep your mindset positive by focusing on things you enjoy, not how tough things are going to be.

2- Journal. At SNC campers do a gratitude journal. Not only does it highlight the good of the day, but on those days when things are a little off, go back and take a read to chear yourself up.

3- Find Joy in a Ritual. Daily have a ritual you know brings joy. A song in the morning, a cup of tea, bath, a walk with the dog, a phone call to a friend. Have your child find their one thing that brings joy and schedule it into their day.

4- Servitude.It doesn't have to be huge, and at SNC daily we set a tone for helping others, from holding the door or grabbing a broom to help. Yet, our favorite is "HOW CAN I HELP?",

5- Smile & Greet Everyone. Your inner grouch leaves when you smile and feel noticed. Swift Nature Camp believes in a community built on Kindness. So it only makes sence that you smile and say HI to everyone while walking on the path.

6- Show appreciation. Rolemodel to your kids appreciation for everything. This will help them see the good things in life plus it tells them what you want to see from them. Not to mention you will be happier because your mission is to raise up those doing good things...even if you expect them.
At camp one of the greatest natural benefits from your child being away from you for 3 or 6 weeks is the Gratitude towards you the family as they are reunited at the end of camp.
Speaking of gratitude, for us, Lonnie and Jeff, here at SNC we are grateful for you and your family. We appreciate your trust and support of camp that we so strongly believe in. It is a wonderful feeling to see your child every summer, to watch them grow, and to be a part of your family.
So what are you thankful for right now ? The above tools are intentional things we do to make our overnight summer camp so special. They are things you can bring home, put your mind to it. Have a wonderful Holiday Season. Make it your best ever!